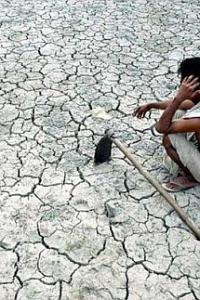 In yet another incident showing the plight of drought-hit farmers and their families in Maharashtra, a 40-year-old woman in the Marathwada region was forced to commit suicide after she was unable to feed her five children.
Reports on Monday said that Manisha Gatkal, a farmer in Marathwada's Osmanabad district, set herself on fire in her own house on Saturday — the day India was celebrating Raksha Bandhan.
Days after her death, Gatkal's house in Ambi village, continues to suffer from lack of grain or food items. With nothing to eat, her children can only stare at the empty vessels around.
"We are really very poor. There was no food. I had no work When I got some work I went out. She latched the door and killed herself," Gatkal's husband Laxman was quoted as saying by a news channel.
One of her relatives said, "Ration is just too little — 18 kg of wheat and 12 kg of rice. That's not enough for seven people. Just lasts 12 days."
What is even worse the villagers here have no work even under the central government employment schemes, which guarantee them jobs.